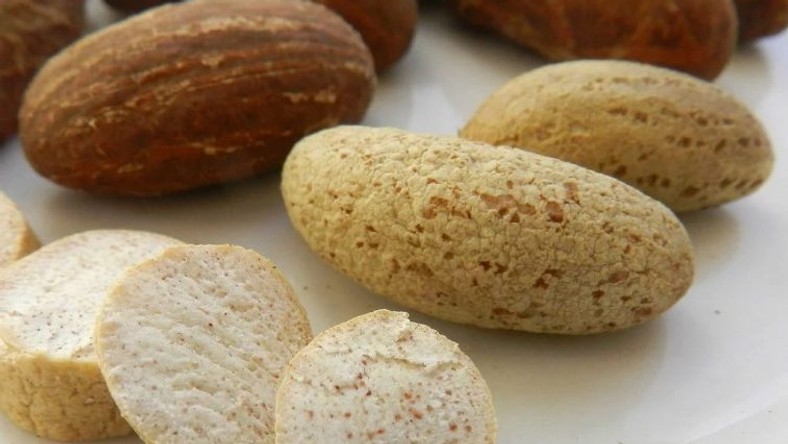 Bitter Kola, also knownknown in Yoruba land as Orogbo, in Hausaland as Miji-goro, and in Igboland as Akiilu or as Garcinia kola, is a fruit from a tree that grows in the rain forests of west Africa. The health benefits of eating this fruit are numerous. From the name, bitter kola is a bitter traditional fruit common in rural areas of Nigeria and West Africa. Traditionally, the fruit, seeds, nuts and bark of the bitter kola plant have been used for centuries in herbal medicine to treat several ailments.
Here are some health Benefits of Bitter Kola
Treating Malaria: Traditional healers use bitter kola to treat malaria. Kolaviron is an anti-oxidant and anti-inflammatory phytochemical. Kolaviron is a major constituent of garcinia seed which helps in treating malaria.
Respiratory health: The considerate amount of consumption of bitter kola helps in strengthening and stabilizing lung tissue and maintain respiratory tract. Healers use the kola to treat chest colds. It also has a favorably high antioxidant content for a healthy body.
It improves s3xual impotence: Studies have shown that when it comes to the improvement of s3xual performance, especially among men, bitter kola is royalty. Bitter Kola does not only increase s3x drive, it also improves the s3xual performance of men who consume it and in other to be effective, it is advisable to chew the kola for at least two minutes before intercourse.
It improves the function of the lungs: The fibers and lung tissues are not only strengthened when bitter kola is consumed regularly in a considerate amount, it also stabilizes any other counter effect. In addition, it helps in the maintenance of good respiratory track as well as treating chest cold.
It improves immunity system: Bitter kola has a high amount of antioxidant. This high amount of antioxidants found in bitter kola does not only help fight bacteria and other illnesses, it also helps the body to increase its immunity levels. And when the immunity level of the body is increased, it becomes strong enough to fight against any foreign contaminant.
It fights glaucoma: Glaucoma is a condition of increased pressure within the eyeball, causing a gradual loss of sight. Glaucoma could result in permanent blindness if left untreated. However, bitter kola has been found to be an amazing remedy for the eye and according to a research, when bitter kola is eaten, at least twice a day, it could successfully reduce the eye pressure.