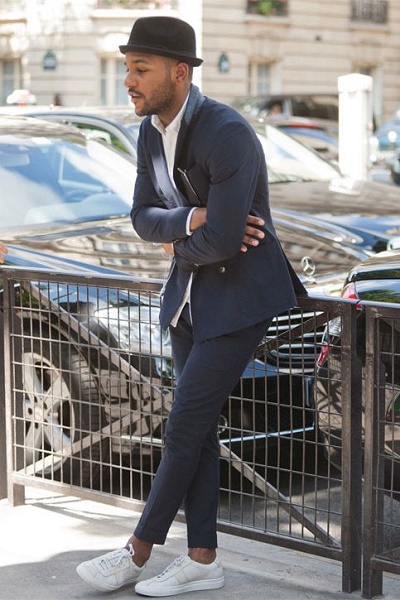 It's possible to wear suits with sneakers; each man just has to abide by the rules of doing it right. The look lends a certain youthfulness, giving colour and edge to the simplest of clothing.
A great sneaker can be paired with formal clothes, infusing a cool twist to simple looks. Just like other trends, the look is cool and edgy if done properly, and can look silly when done wrong.
Putting this look together can be quite tricky, which is why we have compiled a intense guide on how to wear
Fit is super important: Before you consider the shoes, make sure the suit fits. Always ensure pants are fitted and that blazers show your natural shape. A fitted, slimmer frame will look great with a complementing sneaker ensuring a sleeker, aligned aesthetic.
Be Simple: Stay simple with a plain pair of sneakers that will add to the edge of the formal wear. Classic black and navy pairs can be specifically good with retaining a formality to looks without snubbing dress codes.
Proportion is Key: Try out different combinations of suits and sneakers to make sure you get the right pairing. Try a bold blazer with a plain tee shirt and dress up the simple outfits with signature colored sneakers. Also, make sure the heels are not too thin or thick.
Keep in Mind Formality and Dress Codes: Consider formality and dress codes. You should know when to try out the trend. Include sneakers for the right event and maintain a classy approach when trying out looks. For a simple version of the trend, try darker or black sneakers, and keep the vivid color alternatives for the right occasion.
Try different sneakers: A good tip is to find sneakers that come in luxurious materials to formalize the look. A great example are leather trainers. Canvas styles may be limiting, yet should not be overlooked. Brands like Converse and Vans boast simplistic styles and come in a variety of various materials like suede, velvet and leather which prove to create more range for formal dressing.
Grooming is essential: Don't underestimate what groomed hair can do to upgrade the seriousness of sneakers. A well-styled beard will add to the trend, making looks appear to have a more polished aesthetic.
Here are some cool ways to rock sneaker with suit.