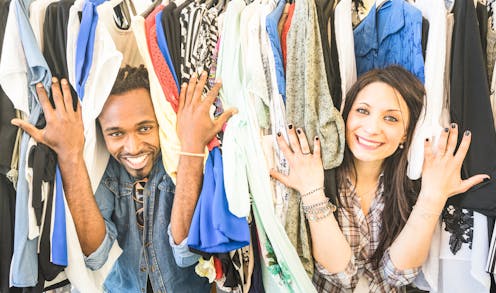 We all have those clothes and stuffs we really don't need but hang on to out of love or sentiments, things that should never see the light of day, because they are either too old, age inappropriate or for one reason or another you have never come around to tossing them out.
To help you declutter your closet, here are a list of the top things that should be tossed out, even burnt if possible, since even donating them would be an insult to the receiver.
Faded blacks: It is so easy to keep old faded black sweaters, tank tops, t-shirts and cardigans around especially when they do not have any tears. It is about time you tossed those away. You are addressed by how you are dressed. Just by your dressing, one can judge in less than 35 seconds how you are feeling on the inside.
Promotional Tees: Promotional T-shirts as the word suggests are meant for just that, promotional events. Wearing them outside of their season is just cheesy and if you must wear them, it has to be in the confines of your house while sleeping or cleaning.
Make-up: Make-up should not be kept beyond certain lengths of time. For instance, lipsticks and glosses expire within three months as they are easily contaminated. Powder and concealer have a longer life of up to six months once opened while nail polish can survive up to a year. The danger of staying with make-up beyond the recommended periods is that they harbor bacteria and sometimes fungi and may lead to ringworm infection once applied. For brushes used in make-up application, they should be wiped with every use and washed with shampoo, conditioned and left to dry in the shade every week.
Worn out inner wear: If you still have in your closet the bra you bought a year ago, be ruthless enough to throw it out. Bras are supposed to be replaced every five to six months and panties every two to three months, whether they show signs of wear-and-tear or not. Do not wait for the underwire of your bra to start showing or your panty to lose its elasticity before you replace them.
Beat-up shoes: There are those shoes you have grown attached to because of how much you paid for them, how long you have had them or what brand they are. If they are worn out, it is time to part ways otherwise, they can just ruin a nice outfit.
Ill-fitting shoes: Do not lie to yourself that the super-tight shoe that pinches you in all the wrong places will expand with time. If it hurts your feet after a couple of hours, the pain will show on your face, and do you really need to hang on to something that hurts you?
Faded denims: There is no point in having several pairs of faded denims. Bag those up and replace them with one or two dark pairs of really nice dark pieces.